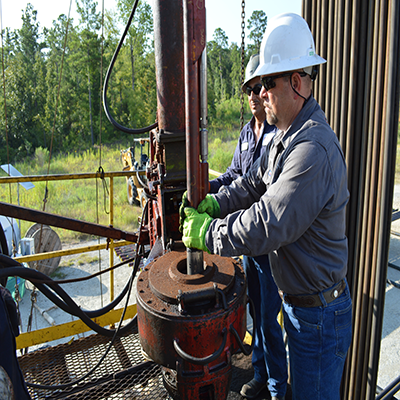 Gas Lift Services
Gas lift is a type of artificial lift system that typically utilizes a high pressure gas source. Gas is injected down the annulus, through a gas lift valve into the tubing and produced up the tubing with the produced fluid. The injection gas aerates the fluid, decreasing the density of the fluid allowing it to flow to the surface. Gas lift is the most natural form of artificial lift.
The primary purpose of a gas lift system is to reduce the pressure in the wellbore. Drawdown of this pressure allows the formation to feed into the wellbore which creates production for the well. There are two types of gas lift equipment: Conventional and Wireline Retrievable. The following pages will detail these systems and the equipment needed for each. If you have any questions, do not hesitate to contact us at 1-281-258-4200 or contact your local sales representative.
Packer Completion Tools
Here at Priority, we pride ourselves on offering a complete line of production, completion,testing, and service tool equipment suited to our customers' desires and specific industry applications. Our extensive line of quality equipment at competitive prices, coupled with over one hundred years of knowledge and experience from a well-trained and qualified group of service technicians, sales support, technical staff, and safety coordinators combines to create a comprehensive package that is unmatched by anyone in today's industry!

Training
Your production is our priority. To ensure you are getting the most out of your Priority artificial lift system, we are pleased to offer an array of training options to meet your needs. Our artificial lift product specialists are experts in artificial lift applications and are eager to work with you to provide an overview of each system. We offer two-day training seminars on a regular basis in our artificial lift classroom at our manufacturing facility in Houston as well as lunch and learn sessions. Please contact your Priority representative if you are interested in attending a session.